DELIVERING SO MUCH MORE THAN JUST A MEAL.
We are guided by a single goal – to support our senior neighbors to extend their independence and health as they age.
That goal also extends to the dozens of volunteers who work with us. From the kind people who deliver the meals and meet with our clients, to the dedicated cooks in our kitchen—we are all one caring community.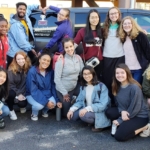 Meals on Wheels of Charleston is a community-based program designed specifically to meet the nutritional and social needs of seniors.