THE PROGRAM
A program that is truly a win-win, the Senior Companion Program (SCP) provides meaningful work for volunteers and essential support to its recipients.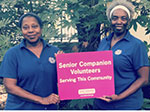 The mission of the Senior Companion Program is to provide volunteer opportunities for people aged 55 and older from various backgrounds, and to provide individualized support and assistance to other adults with physical, mental or emotional impairments, primarily the frail elderly. As part of a comprehensive care team, volunteers serve independent frail clients at home as well as offer care giver support by providing respite assistance.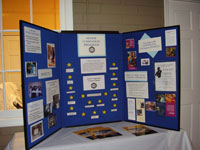 The Senior Companion Program is part of Senior Corps, under the umbrella of the Corporation for National and Community Service.  Senior Corps guidelines require SCP to develop partnerships with other non-profit agencies. These non-profit partners provide SCP with clients in their area that are in need of assistance. They also connect the program with prospective volunteers and provide the supervision and documentation for companions assigned in their areas.
Program Staff: